Natural gas prices at lowest levels in decades
Current natural gas prices continued their decline this winter due to the above normal temperatures in the northeast and strong supply numbers. State of Virginia is moving ahead with 100% clean energy goals by 2050. Vineyard wind project delayed until 2023 due to federal permitting delays.
Natural Gas
The March 2020 NYMEX Henry Hub traded within a narrow range at $1.844/MMBtu, a $0.02 (-.9%) decrease from the previous Wednesday. The price of the 12-month strip averaging March 2020 through February 2021 futures contracts increased $0.03(+1.2%) to $2.147/MMBtu.

For the week ending February 7, the EIA reported net withdrawals from storage of 115 Bcf, which is higher than last year's net withdrawals of 101 Bcf for this week and lower than the 5-year (2015–19) average net withdrawals of 131 Bcf.
Working natural gas in storage totaled 2,494 Bcf, which is 601 Bcf (31.7%) higher than last year's working gas totals of 1,893 Bcf at the same time and 215 Bcf (13%) higher than the 5-year (2015-2019) average of 2,279 Bcf. Total working gas is within the five-year historical range.


Power
Northeast power prices finally had a bounce off of lows last week yesterday and NYISO Zone J pricing on peak for Calendar 2020 forward electricity strip was up 4.6% week over week and the Calendar 2021 peak strip was up 3.0% week over week.

For those looking to hedge northeast exposure and NYISO Zone J On-Peak load, there is still value in hedging term in the March 2020 through December 2020 terms and the Cal 21 and Cal 22 strips. Contact TrueLight to stay on top of value in current forward curve pricing and learn more about our portfolio management execution expertise.
Utility Highlight
Positive Headroom in the Massachusetts BECO territory for some rate classes is now available but only in the short term under current winter rates withe contracts with 3 and 6 month terms. Headroom of $0.00631/kWh and $0.00137/kWh is likely for these periods, respectively.

There is some positive headroom available in the JCPL commercial rate classes for shorter terms, 3 and 6 month terms, with $0.00785/kWh and $0.00791/kWh or headroom respectively, and slightly smaller positive headroom for longer term, 9 and 12 month contracts. Let TrueLight help you stay on top of current rates and subscribe to our PTC tracking and headroom reporting or use our price verification service to ensure you stay on top of all utility rate changes.
Clean Energy
Virginia approves 100% clean energy legislation by passing the Virginia Clean Economy Act setting one of the largest energy storage targets in the U.S. Virginia's electric utilities and suppliers will be required to generate electricity from 100% renewable energy by 2050. A carbon dioxide cap and trade program will be enforced to limit and reduce emissions compliance. Regulators will be given additional powers to block new power plants that emit carbon dioxide. The legislation sets targets for offshore wind and energy storage through 2035, and the State Corporation Commission will be required to approve new energy storage projects. This new bill is an aggressive but practical path to protect rate payers while restricting emissions in Virginia. Contact us for advice on renewable generation project development.
Market Intelligence
Vineyard Wind pushing 800 MW offshore wind project back from original start date of 2020. To qualify for federal production tax credit construction needed to begin by the end of this year. The Bureau of Ocean Energy Management updated the permitting timeline and the final Environmental Impact Statement, required for any project in federal waters, will come on Dec. 18. Vineyard Wind now needs time to review construction estimates before proceeding. The U.S. offshore wind industry received good news from the Trump proposed FY2021 budget which included a $5 million increase for offshore renewable energy.

Natural gas prices have been at their lowest winter levels in decades. Natural Gas pricing at Henry Hub benchmark on February 10 was at $1.81/MMBtu the lowest price since March of 2016 and then closed at $1.77 its lowest February price since 2001. A warm winter, the fifth warmest in NOAA's 126 year climate record, has reduced demand for natural gas for heating in both residential and commercial sectors averaging 4.4 Bcf/d less than January 2019. Supply growth has outpaced demand growth, reducing the need for storage withdrawals. EIA data states a 215 Bcf surplus to natural gas storage levels, higher than the previous 5 year average for the rest of the winter. Contact TrueLight Support for analysis of the most up-to-date energy market news or use our price verification service to ensure the most recent market shifts are reflected in your price quotes.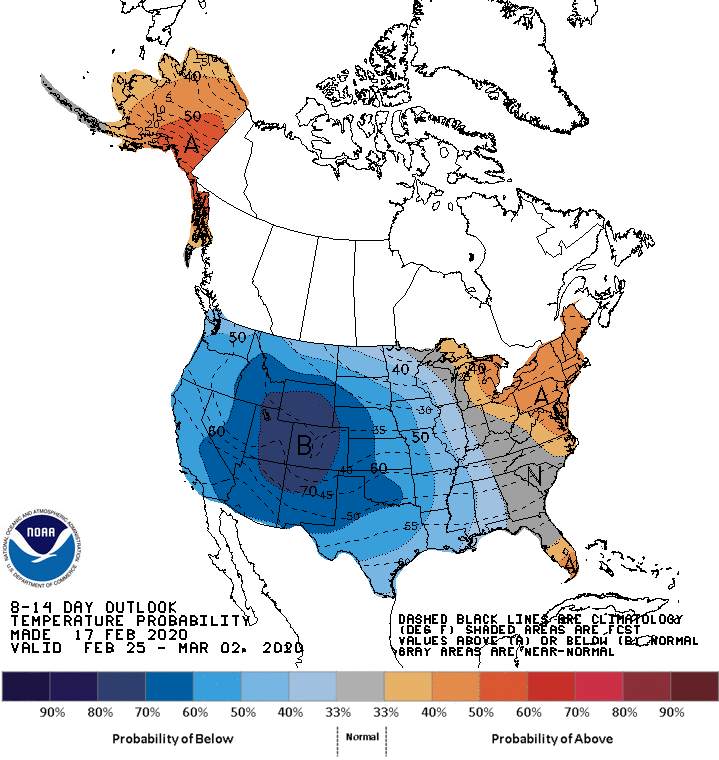 Weather
The 8-14 day forecast beginning February 11th the West Coast regions, specifically northern California and the Pacific Northwest, are also expected to be drier than normal. A cold front moves east from the Great Plains to the East Coast and is predicted to bring above average precipitation across the eastern regions.